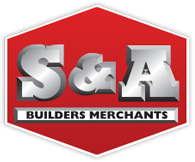 We are currently updating our website.
Please call our stores for sales and service:
Barnard Castle: 01833 696900
Crook: 01388 768764
Opening Hours:
7.30am - 5pm Monday - Friday
8am - 12pm Saturday
Closed Sundays
ABOUT US:
S&A Merchants are your local, independent supplier of home and farm building materials and supplies. Whether it's a bulk delivery of sand, a tin of paint, some fencing timber or a pair of boots, we have it in stock for you to collect, or for us to deliver in one of our fleet of delivery vehicles.
We have a great team of staff to help you whether it's organising for a bulk delivery of materials, getting your head around what's needed for a big building project or simply helping you carry your purchases out to your car.
Many of our staff have come from a tradesman's background so they really understand what you need to get the job done. Also because we have had our own building fabrication division for over 30 years it means no project is too big or too small and we have a vast amount of experience to call upon to help you.
Everything You Need...
We hold over 6,000 product lines and pride ourselves on being able to supply what you need, when you need it. We are also part of the National Buying Group (NBG) which gives us access to literally hundreds of national manufacturers and suppliers at the very best prices. If you want it, we'll get it!